Accessories: Sennheiser RS 185 Wireless headphones, TR 185 transmitter, Optical cable, RCA audio cable, Power supply with 4 adapters (EU, UK, US & AU), 2 AAA NiMH rechargeable batteries, Quick guide & Instruction manual CD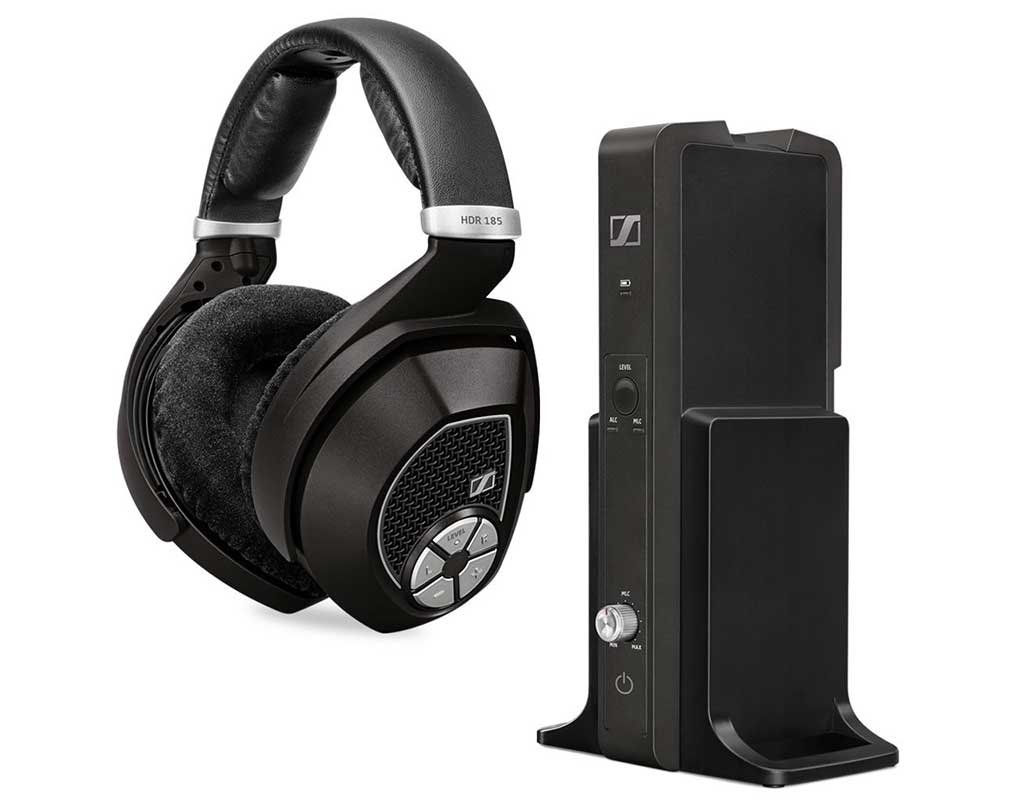 Sennheiser RS 185 Wireless Headphones Review
Uncompressed Sound
Isolation: Zero.
Build Quality:
Duh, it's a Sennheiser RS 185 Wireless Headphones. It's as firm and sturdy as you expect from the Germans.
Comfort/Fit:
Very good. It's a bit heavyish compared with the old 180 but its ear cups are a touch bigger so properly fit around my ears. Comfy enough to wear all day long, I know because I did.
Aesthetics:
Not sure I love the monolithic looking base station. Still the whole bundle looks pretty reasonable. German, sensible and functional rather than stylish.
Sound:
Duh, once more, it's a Senn. They have been making headphones since the dawn of time and it shows. They know how to make things sound excellent with a reliability you expect from the Germans too. It's not a flashy thing though, it's a grown up, exceedingly proficient sound. Its bass is full, deep, controlled and expansive.
It's not party bass, it's very grown up, polite and mature bass. If you throw on massively bass heavy stuff it will do it, competently and accurately. It is slightly bass heavy but it's not a bassheads headphone. Mids are a hair reticent and reticent but vastly broad. Breathy and detail by the bucket load but they lack something of the soul about them. Dry, breathy stuff like the Krall woman are excellent, creamy melodic Nora stuff is "accurate" but it hasn't quite that creamy sumptuousness I'm looking for. Not that it's bad it's just a bit, well it's not expressing the emotiveness of her vocals.
It's a bit staid
Beautiful but not quite captivating. Strings are tonally dry and accurate too but lack that creamy softness I so love. Treble is highly, highly proficient. Once more the order of the day is accurate. Cymbals have the right amount of metallic twang and bight. Decay and extension are very competent too. It's all so very German, accurate and superbly capable but I'll confess it lacks a little soul.
It's very slight V shaped sound is all so flavourless. No drama, nothing it's especially well-suited for just as there is nothing its meh at. I believe Senn are thinking this could be your only headphone and I think they could be right. Its excellently capable at everything, From Tracy Chapman, to Scissor Sisters, to Twenty One Pilots, to Megan "I think I'm Fat" they are excellent with everything, no matter how talented or not your chosen musical artists are.
The 185 is pretty much on paper perfect. It really is but, just so German, polite and capable.
Value:
Depends how you look at it. This could be effectively your entire set up, DAC, amp and headphone all in one, oh and wireless to boot. So super awesome value. If you don't want to use its DAC and you've already got an awesome headphone amp then £300 for just the headphone is quite a bit just to get rid of a wire.
Pro's:
No Wires!!!! Sounds most excellent wires or no wires.
Con's:
Its not cheap and you pay for the lack of wires
Read this review for Sennheiser HD206 series, if you want the high-end with wire.
We gave the Sennheiser RS 185 Wireless Headphones