I have been a long time "ear bud" user, but spending more time traveling with work (planes and trains) I wanted something to kill the ambient noise, that's Bose QuietComfort 25 Acoustic Noise Cancelling headphone. After sampling the qc15s at an airport shop, I was impressed, but held off buying them because the qc15s need a battery to function. The new qc25, however, only need the battery for active noise cancelling and a little extra amplification – but if you run out of juice you can still listen to music using them as regular passive headphones.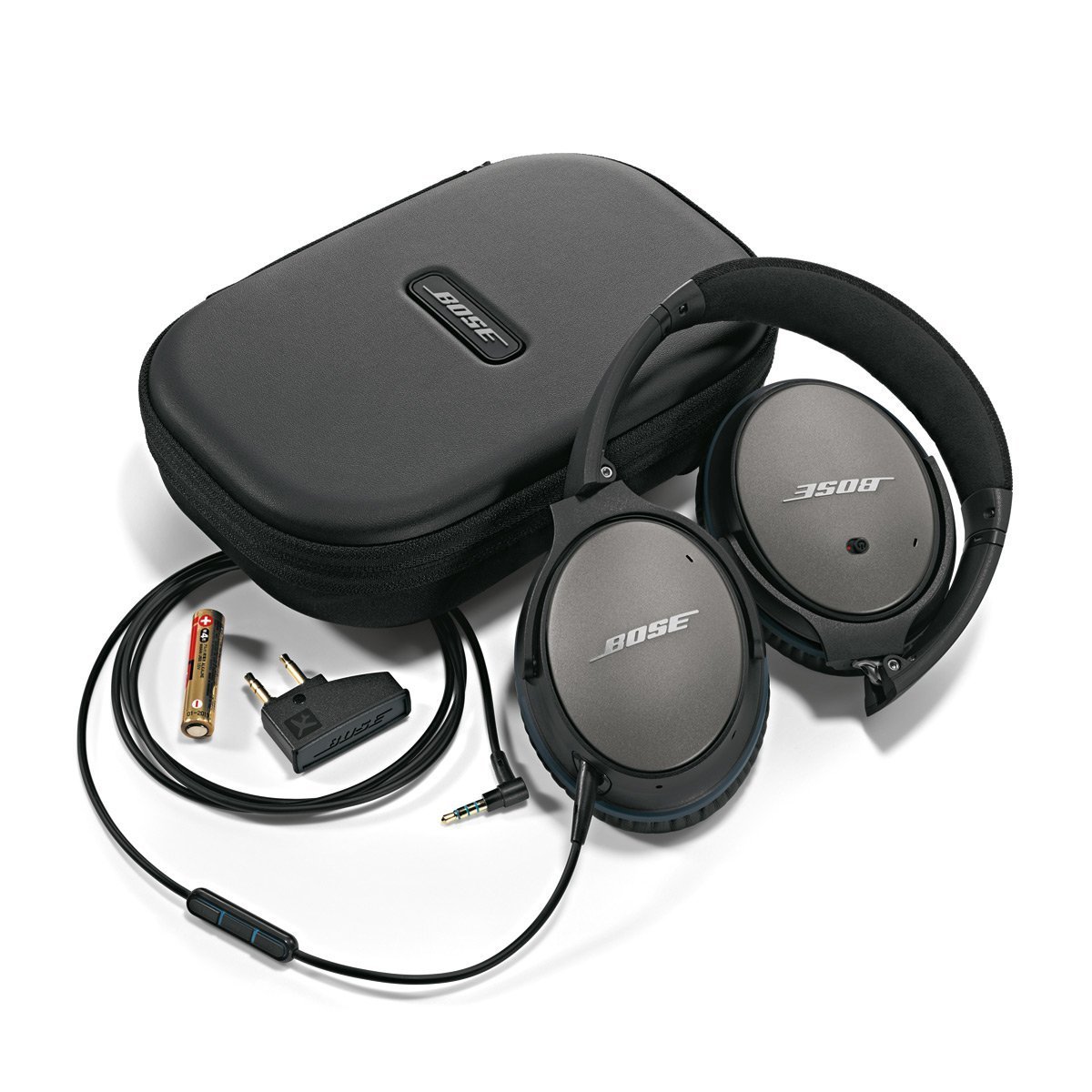 Bose QuietComfort 25 Acoustic Noise Cancelling headphone Review
They are very, very comfortable, and don't give you hot ears after a few hours use. For large headphones, they fold fairly small, and the case means that they pack easily.
Use without any input
They muffle and background noise – continuous droning type noises are almost completely eliminated, but you do still hear some things. There is a little hiss when used like this, but it's not enough to bother me, and it's inaudible when music is playing.
With music playing, you simply get lost in it – the outside world just seems to disappear! I'm no audiophile, but to me they have a really well balanced sound – enough bass without being overpowering, beautifully clear vocals, and sharp treble. The sound quality is reduced a fair bit without the battery, but they're still good enough if you get stuck.
I'm sure I could have got better sounding headphones for this kind of money, but I doubt I could have got better performing noise cancellation. Overall, these are amazing for what I want to use them for.
Why not 5 stars? A couple of minor niggles.
the inline remote is Apple standard, so doesn't work on my android devices. Play/pause/answer works on the centre button, but vol up/down don't… A shame Bose don't offer a choice of cable (yet!)
with the cable attached, it has to bend quite sharply in the case, so I'm disconnecting it each time – over time, this may loosen the connection
there isn't really anywhere to store the cable, it just kinda lies in and around the headphones in the case. Slightly annoying, and possibly will rub on the headphones and scratch when traveling
Despite those niggles
I'm more than pleased with these – they still give me a great big grin everything I use them. If you want the best audio experience in a quiet environment, then you can probably do better. Add some background noise into the mix and these are simply superb.
We gave the Bose QuietComfort 25 Acoustic Noise Cancelling headphone